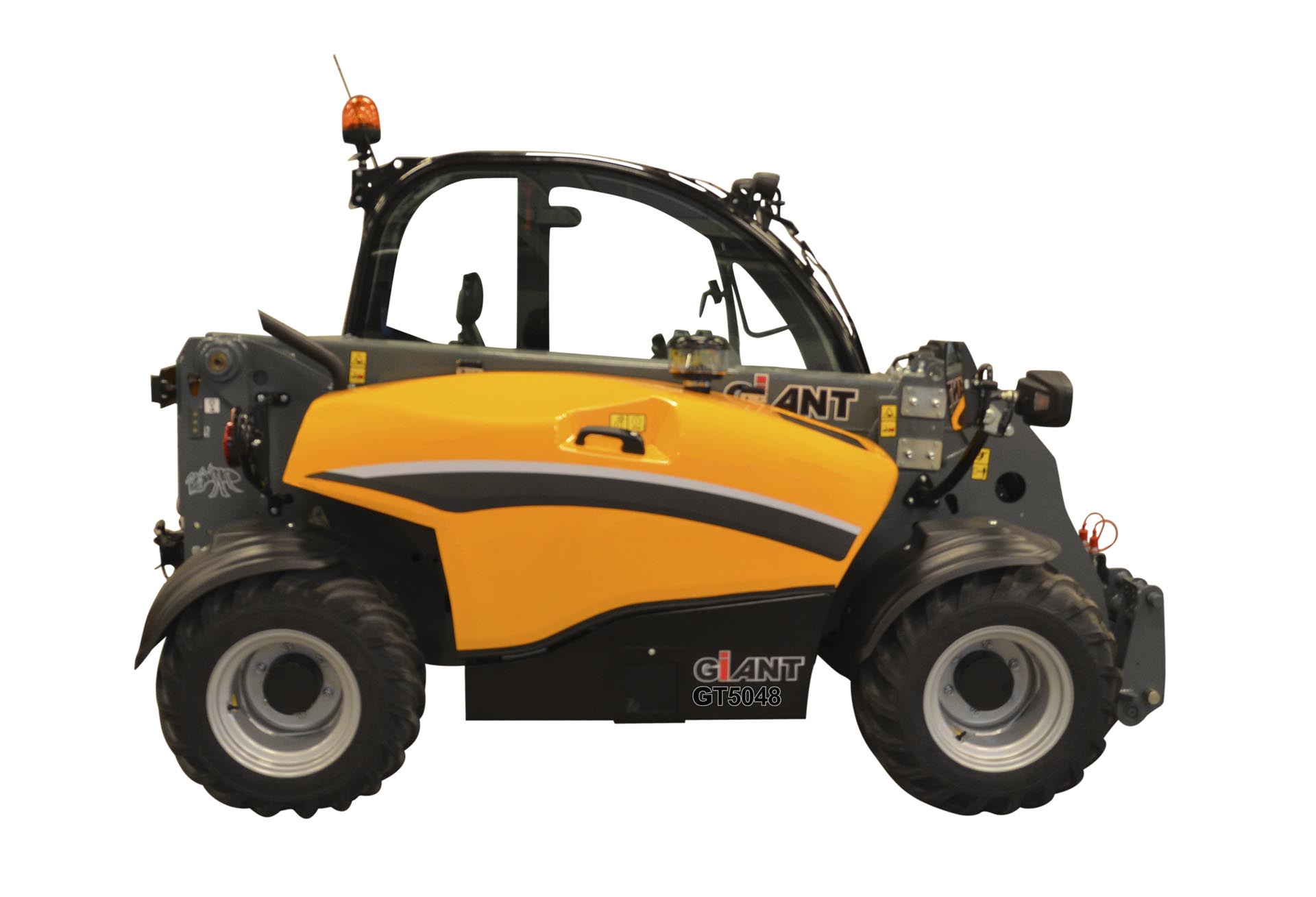 Overview
The Giant GT5048 compact telehandler provides a spacious cab with curved windscreen provides for all-round vision that allows safe and precise operation. The machine can be equipped with an optional heated cab with AC. Designed with a compact frame, the Giant GT5048 is built to maneuver in tight spaces and work in rough terrain. Standard 4-wheel steer and optional crab steer make the machine very agile. The Giant GT5048 is equipped with a strong 3 cylinder 50 HP turbo charged Kubota diesel engine with a catalyst (DOC) and particulate filter (DPF). The machine features a standard 2-speed gearbox and heavy planetary final drives that deliver a high pulling force, quick acceleration and a top speed of 13.5 mph. The telescoping boom provides a pin height of 189″. This machine comes standard with a universal full size SSL plate and hydraulic quick attach.
Strong
Standard two-speed gearbox for high travel speeds and plenty driving torque
Performance
Powerful and reliable 50 HP Kubota diesel engine
Reach
The GT5048 has a class leading reach of 189 inches
Versatility
Standard 2-wheel and 4-wheel steer, with optional crab steer
Comfort
Add a full cab with heat and AC for operator comfort and safety
Multi-use
The GT5048 is equipped with a universal SSL-plate to utilize an array of attachments
Tires Options
Maximize your returns by selecting the correct tires and wheels for your Giant machine. We offer a wide variety of tire choices with different tread patterns and tires in different sizes and widths.
Compatible Attachments
All Giants come with an industry-standard SSL, MT or mini-skid attachment plate. Next to we offer a wide variety of specialty attachments in order to maximize your investment in a Giant machine!