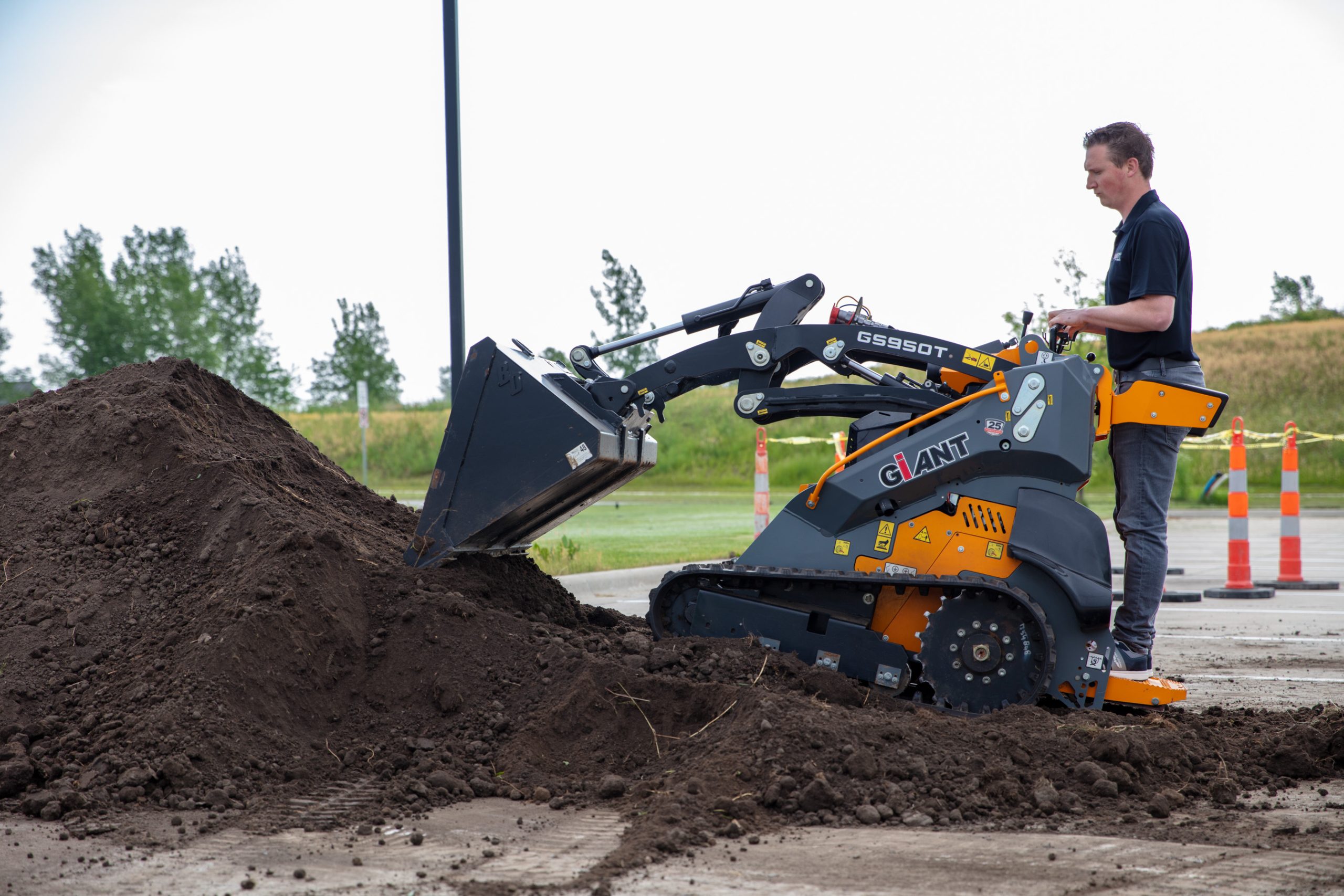 Overview – Wheeled or Tracked Option
Giant has expanded its product range with the GS-series stand-on mini-skidsteer. This machine is powered by a strong 3 cylinder 25 HP Kubota diesel engine. The GS900 is driven by 4 heavy duty hydraulic wheel motors and turns on a dime!
The GS950T(tracks) has two powerful wheel motors and provides improved traction in dirt and mud. It also has additional lift capacity.
The GS-series mini-skid comes standard with an adjustable hip bracket, a double acting hydraulic function, cast iron counterweights and a universal mini-skid attachment plate. This head-turner gets the job done quick and easy with options for customers in landscaping, agriculture, tree care, construction and more.
Versatility
Turn on the spot and maneuver in tight spaces
Power
Powerful & reliable 25 HP Kubota diesel engine
Multi-use
Universal mini-skid plate to utilize many different attachments to get the job done
Strong
Up to 2354 lbs tipping load (tracked) and up to 82.7 inches lift height (wheeled.)
Comfort
Adjustable hip brackets and a suspended adjustable operator platform for comfort
Hydraulics
The standard hydraulic outlet provides 9.2 GPM hydraulic flow
Tire Options
Maximize your returns by selecting the correct tires and wheels for your Giant machine. We offer a wide variety of wheel choices with different tread patterns, rim offsets and tires in different sizes and widths to fit your application and situation.
Compatible Attachments
All Giant machines always come with an industry-standard attachment plate. This makes it very easy to use any attachments that you may already have! As well, any attachment specialist will be able to supply you with attachments, which makes your attachment options to choose from virtually unlimited. Next to that we offer a wide variety of Giant-branded custom ordered specialty attachments. With this "non-proprietary" attachment approach Giant offers you many options to maximize your investment. It has never been easier to get into a Giant!