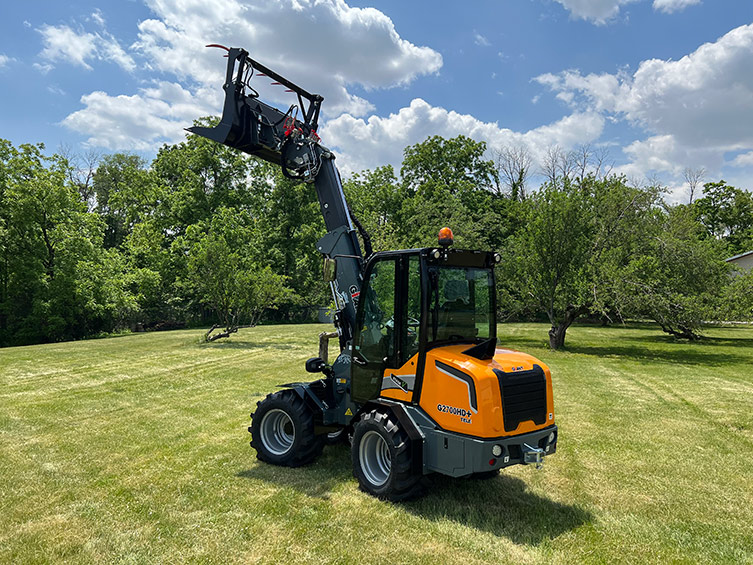 Overview
The G2700E combines the best of both worlds with the advantages of an articulated loader and near-silent operation without emissions. The electric loader is ideal for working in buildings, in farm operations, on construction or demolitions sites or in urban areas.
The Giant G2700E comes standard equipped with a Jungheinrich 520 Ah, 48V lithium-ion battery that fills the space where traditionally the engine can be found. With two separate electric motors, 7 kW for the drive train and 12 kW for the working hydraulics, there is always sufficient power to work precisely and efficiently. Furthermore, the machine regenerates energy when the machine brakes or drives downhill. The G2700E with regular boom has a hinge pin height of up to 116.6 inches and the X-Tra boom version has a tipping load of up to 5732 lbs.
Strong
Variable three-phase electrical drive system with high torque and fast accelerating speeds
Performance
Powerful and reliable 7kW drive – 12kW working Jungheinrich electric motors
Powerhouse
The G2700E X-tra has an industry leading tipping load of up to 5732 lbs
Heavy duty
The G2700E is equipped with electric 4-wheel drive and heavy duty final drives
Comfort
Add a full heated cab for operator comfort and safety
Multi-use
Universal full-size SSL plate to utilize many different attachments 
Tire Options
Maximize your returns by selecting the correct tires and wheels for your Giant machine. We offer a wide variety of wheel choices with different tread patterns, rim offsets and tires in different sizes and widths to fit your application and situation.
Compatible Attachments
All Giant machines always come with an industry-standard attachment plate. This makes it very easy to use any attachments that you may already have! As well, any attachment specialist will be able to supply you with attachments, which makes your attachment options to choose from virtually unlimited. Next to that we offer a wide variety of Giant-branded custom ordered specialty attachments. With this "non-proprietary" attachment approach Giant offers you many options to maximize your investment. It has never been easier to get into a Giant!