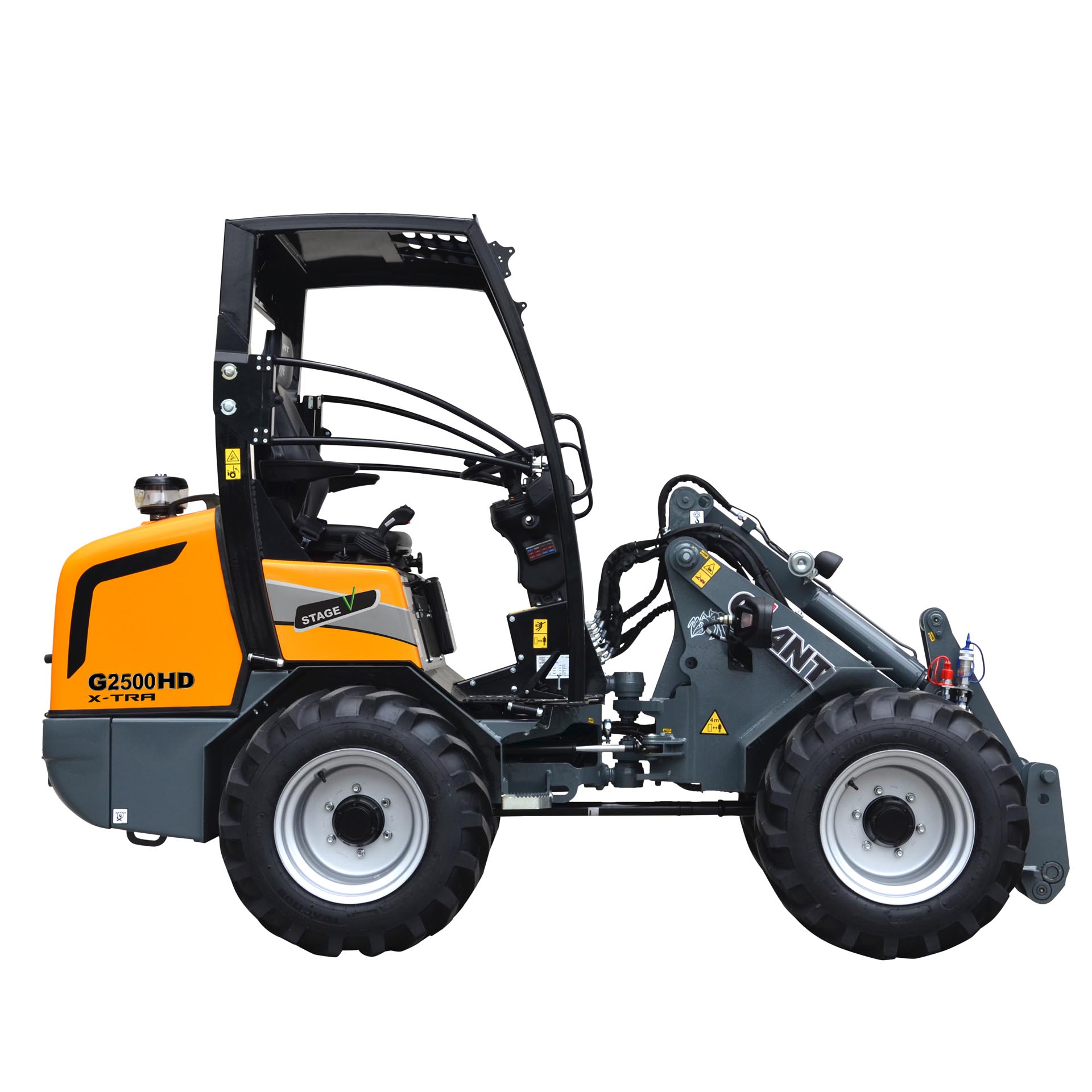 Overview
The Giant G2500 HD features a new Final Tier 4 Kubota 4 cylinder diesel without exhaust gas after treatment systems to ensure performance and low maintenance costs. The Giant G2500 HD comes standard with a 2-speed gearbox and heavy-duty axles that deliver a high pulling force and travel speed up to 12.4 mph. The Giant G2500 HD compact wheel loader can be equipped with a full cab with heat for operator comfort. A wide tire selection, optional traffic lights and additional hydraulic options make this machine a great fit for snow removal purposes, landscaping & tree work, construction or farming. The G2500 comes with either a standard boom or an X-Tra boom configuration that offers more visibility and a higher lift capacity. A foldable ROPS is available for work in low clearance areas. This machine comes standard with a universal full size SSL plate and hydraulic quick attach.
Strong
Standard two-speed gearbox for additional travel speed and driving torque
Reliability
Powerful and reliable 26 HP Kubota diesel engine
Powerhouse
The G2500 HD X-Tra has a tipping load of up to 5732 lbs
Heavy Duty
The G2500 HD is equipped with hydrostatic 4-wheel drive and heavy final drives
Comfort
Add a full heated cab for operator comfort and safety
Multi-use
Universal full size SSL plate to utilize many different attachments to get the job done
Tire Options
Maximize your returns by selecting the correct tires and wheels for your Giant machine. We offer a wide variety of wheel choices with different tread patterns, rim offsets and tires in different sizes and widths to fit your application and situation.
Compatible Attachments
All Giant machines always come with an industry-standard attachment plate. This makes it very easy to use any attachments that you may already have! As well, any attachment specialist will be able to supply you with attachments, which makes your attachment options to choose from virtually unlimited. Next to that we offer a wide variety of Giant-branded custom ordered specialty attachments. With this "non-proprietary" attachment approach Giant offers you many options to maximize your investment. It has never been easier to get into a Giant!