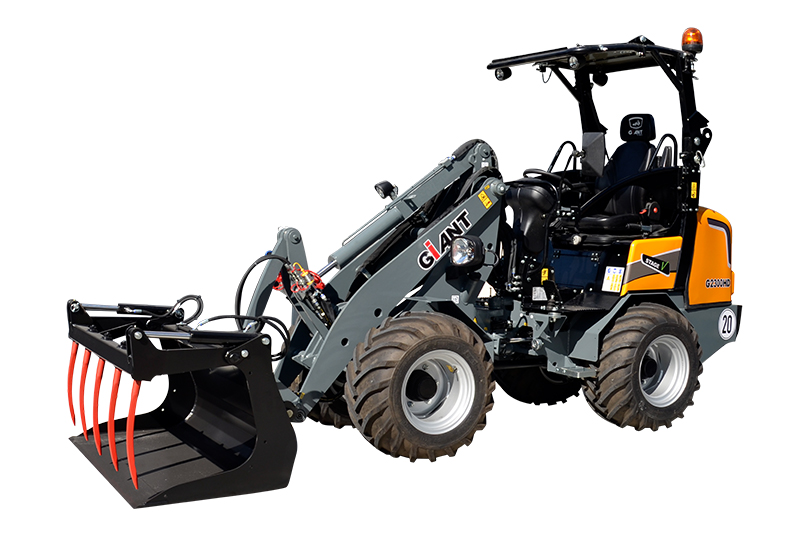 Overview
The GiANT G2300 HD compact articulating loader is the newest of the GiANT lineup! By combining the compact frame of our G2200 and the strong driveline from the G2500 HD, the G2300 HD is the definition of big performance in a small package! Powered by a Kubota 4-cylinder diesel with 26 HP, this machine is not required to run a diesel oxidation catalyst (DOC) or diesel particulate filter (DPF). The G2300 HD is available in 2 boom configurations, X-Tra and Z-Bar, both fitted with a universal skid steer quick attach plate (SSQA). Similar to the G2500 HD, the G2300 HD comes standard with a 2-speed gearbox, 8-ton axles and planetary final drives, capable of a 12.5 mph top speed. Available with open ROPS, deluxe ROPS or optional full cab with heat, this machine fits well in all climate conditions. The G2300 HD frame is compact but still has room for an oscillation joint, helping to improve ride quality and limit ground pressure. A few options include: different tire profiles for various terrains, road lights for safe road travel, rear hydraulic outlets, pro-inching and boom suspension. The G2300 HD is compact, powerful, efficient and fits perfectly in all industries including; agriculture, construction, snow removal, municipal use, landscaping and tree care.
Fuel Efficient
Lower operating RPM provides higher fuel efficiency
COMMERCIAL GRADE
All steel body panels to maximize up-time and protect your investment
POWER
Powerful and reliable 26 HP Kubota diesel engine
Strong
Up to 3516 lbs tipping load and up to 111 inches of lifting height
TIRE OPTIONS
Narrow tires, wide tires or dual tires: pick the right tire configuration for your job
HYDRAULICS
Precisely operate you attachment straight from the joystick
Tire Options
Maximize your returns by selecting the correct tires and wheels for your Giant machine. We offer a wide variety of wheel choices with different tread patterns, rim offsets and tires in different sizes and widths to fit your application and situation.
Compatible Attachments
All Giant machines always come with an industry-standard attachment plate. This makes it very easy to use any attachments that you may already have! As well, any attachment specialist will be able to supply you with attachments, which makes your attachment options to choose from virtually unlimited. Next to that we offer a wide variety of Giant-branded custom ordered specialty attachments. With this "non-proprietary" attachment approach Giant offers you many options to maximize your investment. It has never been easier to get into a Giant!